Subscribe to the
AFC RSS Feed:







Fan Art
If you'd like to contribute some fan art, go ahead and post in the message boards and I'll see about getting it added here.
Here's a bunch of cool PixelStik images from Brian Spradlin. If you want to see an army of PixelStiks, visit PaintStik.
2007 Emerald City ComiCon Commissioned Sketches
At the 2007 Emerald City ComiCon, I commissioned Joe Largent to do a sketch of Momo. Joe is a new artist originally from the Seattle area and he's got a great style. He did this pic of Momo in 15 minutes or so! It was amazing to watch. Check out his website at Joe Largent's Arsenal. He does commission work, if you're interested. I'll be having him do some more of the PotB characters.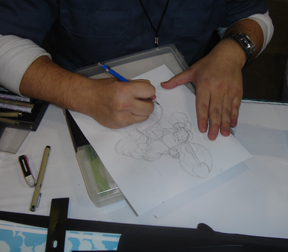 Brad Geiger of Evil, Inc., did one of Vayla:

Tony Deca Cruz also did one of Vayla. He's available for commissioned work.

Official Sponsors:



Recent Forum Posts