Annotations
Comment on Episode #138.
Panel #6 - I had to create a new window for this shot using HirstArts bricks. I set it up in my kitchen window. That's actually daylight coming in through the window.
2007 Emerald City ComiCon Report
I went to the con on Saturday for a few hours. It was very busy, lots of exhibitors, artists, and visitors. The highlights for me were meeting Phil Foglio (who is an exceedingly nice guy) of Girl Genius fame and Brad Geiger (also a very nice guy) of Evil, Inc fame.
I also commissioned a few artists to do some sketches of PotB characters! Here are three of them. I'll be getting another of Dundorious soon from none other than Phil Foglio!!!!
Brad Geiger did one of Vayla:

Tony Deca Cruz also did a cool action shot of Vayla. He's available for commissioned work. I hope to get him to do some more PotB characters.

And Joe Largent did one of Momo. Joe is a new artist originally from the Seattle area and he's got a great style. He did this pic of Momo in 15 minutes or so! It was amazing to watch. Check out his website at Joe Largent's Arsenal. He does commission work, if you're interested. I'll be having him do some more of the PotB characters.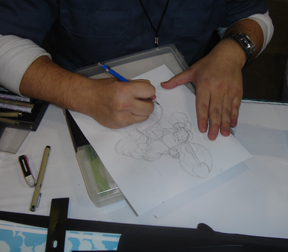 Massive quantities of action figures were on sale, but I only saw one Stikfas. Alas.
There were a lot of folks in Star Wars costumes.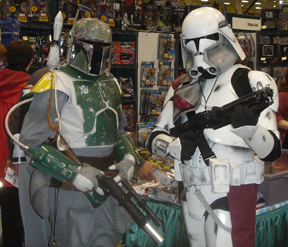 And one guy had this cool scratchbuilt, spaceship on display. Check out all his stuff at www.wearesmall.com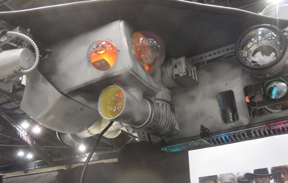 And, one of the AFC security guards was present to make sure that no one-armed men committed sepukko.