Comment on Episode #7.
Annotations
Panel #1 - The protagonist is a customized Omega male Stikfas action figure. The hair is Sculpey clay boiled on. The belt is a thin piece of elastic. The bootcuffs are strips of cloth trim. The bootstuds are clothing decorations. The holster is made from a three-ring binder pocket plastic (thanks to Kel over at Qui'ote Files for advice on that, it worked great). The gun is a customized Stikfas pistol. You'll see much more of it in future episodes.
Panel #5 - Perspective can sure make things look tiny. The ship looks enormous compared to the figure at this angle.
Panel #6 - Those are binoculars from the Omega male military Stikfas action figure.
Panel #7 - The horizon is actually Arizona (a pic I snagged from Morguefile). The unedited shot in my backyard looked like this: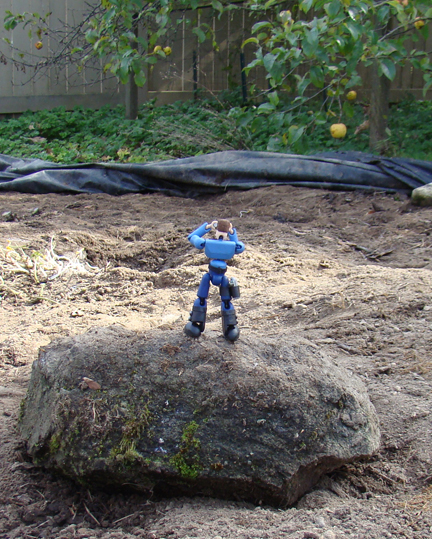 Panel #9 - Finally, you get to see the protagonist's face. And, that's right, I'm using a different style of face for DOD. Perils of the Bold is a comedy strip, and so I thought it was okay to use very cartoony eyes and mouths. Dark Omen Dawning, however, is a scifi-noir. I decided to go for a little bit more realistic faces. What do you guys think?
While filming, a spider in the garden decided to start making webs from the protagonist's head!