Comment on Episode #8.
Annotations
Panel #1 - The reason you haven't seen the port side of the starship until now is because it's got a big hole cut into it for the cargo door. Originallly, I was going to create an actual door with hull plating like the rest of the ship and fix it in place. However, that would have required a lot of extra work. Therefore, I decided to just use the starboard side for space shots and leave the port side with the hole in it. Now that it's on the planet, I placed the cargo door on the ground and taped it underneath to the hull, to make it look like it's attached.
Panel #2 - The inside of the cargo bay is empty and looks like the inside of a weedkiller bottle. Therefore, I decreased the brightness of the interior sufficiently to make it black.
Panel #4 - Here you get your first look at the hoverbike. I didn't spend as much time on this as on the starship, but I really like how it came out. I used parts from a variety of toy motorcycles and other bits, as you can see in the photos below.
The hoverbike is based on the chassis of this Hot Wheels 1:18 Moto Ferenzo motorcycle. This is really a cool looking bike, and as soon as I saw it on the shelf at Fred Meyer I knew I'd have to use it for the protagonist's bike.

I took the entire windscreen from this toy motorcycle and glued it on the front of the hoverbike, as you'll see.

The seat for the hoverbike came from this toy motorcycle.

This toy robot supplied the backrest support and the rear ventral wings of the hoverbike.

A toy zeppelin's engines give the hoverbike its meaty forward jets.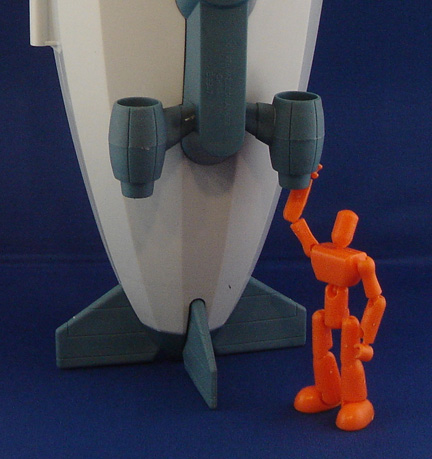 The Ferenzo dismantled.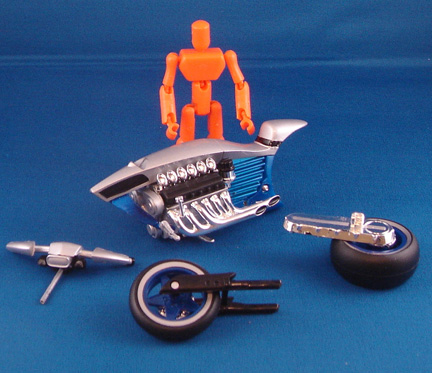 Most of the parts on display. Yes, I did use the cap from a Vis a Vis marker in the hoverbike. The silver engine is from a Buzz Lightyear toy.

Here most of the parts are shown spray-painted Krylon metallic blue.

The hoverbike partially constructed. You can see the pen cap on the nose.

In episode #9's annotations, I'll include some better photos of the finished hoverbike.
Panel #6 - Those are mountains of Afghanistan in the background.